It can be difficult to keep weight on an older dog for several reasons, including poor appetite, poor digestive function, loss of muscle mass, slowing metabolism and more.
However, Illness/disease can cause sudden, significant or sustained weight loss and ANY dog who experiences noticeable and/or sustained weight loss needs to be examined by a veterinarian to make sure that there is no underlying health condition which is causing the problem.
But if your dog is given a clean bill of health by your veterinarian and yet is still losing weight, there are steps you can take which may slow down, halt or even reverse the weight loss.
Of course, it's healthier for your dog to be lean rather than heavy, and I wouldn't suggest trying to add pounds to a dog who is already on the plus-size side of average!
The suggestions on this page are only for senior dogs who are underweight and have been thoroughly examined by a veterinarian to rule out illness/disease.
Dietary Changes for Skinny Older Dogs
If you're trying to keep weight on an older dog who is healthy, but skinny, there are a few tweaks you can make to his diet/feeding which may help.
Feed a Premium Food
As our dogs age their appetites often decrease, and their bodies find it more difficult to absorb nutrients from their food.
So, it makes sense to ensure that the food they are eating is the highest quality, and most nutrient dense option you can offer.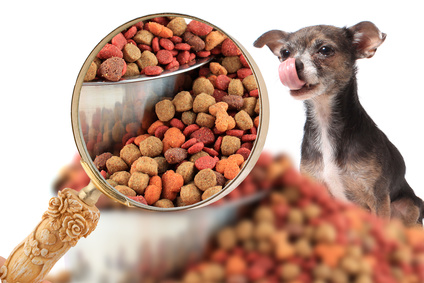 Although there are many foods formulated for senior dogs, a lot of them are 'low fat' or 'low calorie' to address the excess pounds many older dogs carry.
These are obviously not a good choice for a dog who is having trouble maintaining a healthy weight.
Older dogs can find it more difficult to utilize the protein from their diets, so a food with above average protein content is recommended.
It's also important to choose a food which will not worsen any existing or chronic health problems your dog has.
For a HEALTHY senior dog who simply needs to gain a few pounds, or slow down an existing weight loss pattern, look for dog foods which contain:
Above average caloric density (upward of 400 K/cal per cup)
Above average protein content (35% +)
Above average fat content (15 – 20% +)
Premium quality dog foods are more nutritionally dense and contain less fillers/additives and 'junk'.
They're also easier to digest and your dog will get more nutrition per cup – very valuable when his appetite is poor.
Sometimes a premium, high quality puppy food formula can work well for older dogs because it is also higher in calories and more nutrient dense than adult dog food.
Overall protein and fat content is often a little lower than the figures given above but still a more appropriate choice than a regular adult or senior dog food.
Dry kibble contains more nutrition per cup than canned food, but it can be more difficult for older dogs to eat and isn't as appetizing in terms of smell/taste.
Here are some excellent dry dog food selections that fit the bill.
| | | |
| --- | --- | --- |
| Wellness CORE Natural Grain Free Dry Dog Food | Earthborn Holistic Great Plains Feast Grain-Free | Orijen Freeze-Dried Adult Original Formula |
| Instinct Raw Boost Grain Free Natural Dog Food | Purina Pro Plan SPORT All Life Stages Performance | Earthborn Holistic Puppy Vantage Natural |
Choose canned food from any of the above manufacturers or other premium dog food ranges too.
Make Meals More Appealing
If eating more of a high calorie/high fat diet is one of the best ways to keep weight on older dogs… then figuring out how to make sure they eat their meals is vitally important.
Many senior dogs have reduced appetites.
This can be caused by many different things, some internal, some external.
Some of the causes of poor appetite in old dogs include:
Reduced sense of smell/taste
Dental discomfort or tooth loss
Poor/slow digestive function
Lack of exercise/mobility
To overcome these issues we need to make our dogs' meals smell and taste better, be highly nutritious and easier to chew/eat/digest.
First step is to choose a premium food, the next step is to make it palatable and attractive to your Golden Oldie.
You can make dry kibble more appetizing for older dogs by:
Choosing smaller kibble pieces rather than larger ones
Soaking it in warm water or bone broth for 10 mins before serving
Adding a scoop of premium canned food or tasty gravy/bone broth
Adding a small amount of cooked chicken, or low sodium chicken broth
Adding a little canned tuna and/or the oil/water from the can
Adding a little scrambled egg
Feeding smaller meals more often may also increase the amount of food your dog eats in a day, or over several days/weeks.
If you only feed once a day, change to twice a day for medium to large breed dogs. Three times for tiny and small breeds.
Improve Your Dogs' Digestive Function
As dogs age, their bodily functions and systems become less efficient in general.
Because of this some older dogs can have difficulty digesting their food and absorbing the nutrients they need.
There are supplements and digestive aids which can help improve your senior dogs' digestive system health and function.
Probiotics, prebiotics and digestive enzymes can all be viable options.
Some of the products that fit this bill include….
High Calorie Supplements for Dogs
Sometimes puppies, sick convalescing dogs or senior dogs need a bit of a nutritional 'boost' to help them gain strength.
Calorie dense nutritional supplements can help with this.
These supplements usually come as a paste or as a liquid and can be fed to a puppy/dog alone, or as part of a meal.
Here are two options that are popular:

Dyne High Calorie Liquid
for Dogs




Nutri-Cal High Calorie Nutritional Supplement For Dogs
Homemade Dog Food
Preparing homemade meals for an older dog who is having problems with gaining/maintaining a health weight is definitely an option.
If you use fresh, human-grade ingredients and add the correct supplements, vitamins and minerals you can create nutritious and easily digested meals for your senior dog.
But it's vitally important to get the ratio of nutrients correct, and the added supplements.
If this is a route you're interested in following I would strongly recommend discussing it with your vet who knows your dog and will be able to give you guidelines for creating meals that provide what he needs.